This story is about a group of brilliant German and Egyptian scientists working to bring Cleopatra to life, when they find her tomb and mummy more than 2,000 years after her death. Amateur anthropologist, John Storm is called in to help identify and stop the sect responsible, the CIA officially fearing retribution from the reincarnated Queen of Egypt and disorder, but actually wanting to steal the cloning technology. The Elizabeth Swann's AI, 'Hal,' plays an important part in helping the tough adventurer solve this riddle.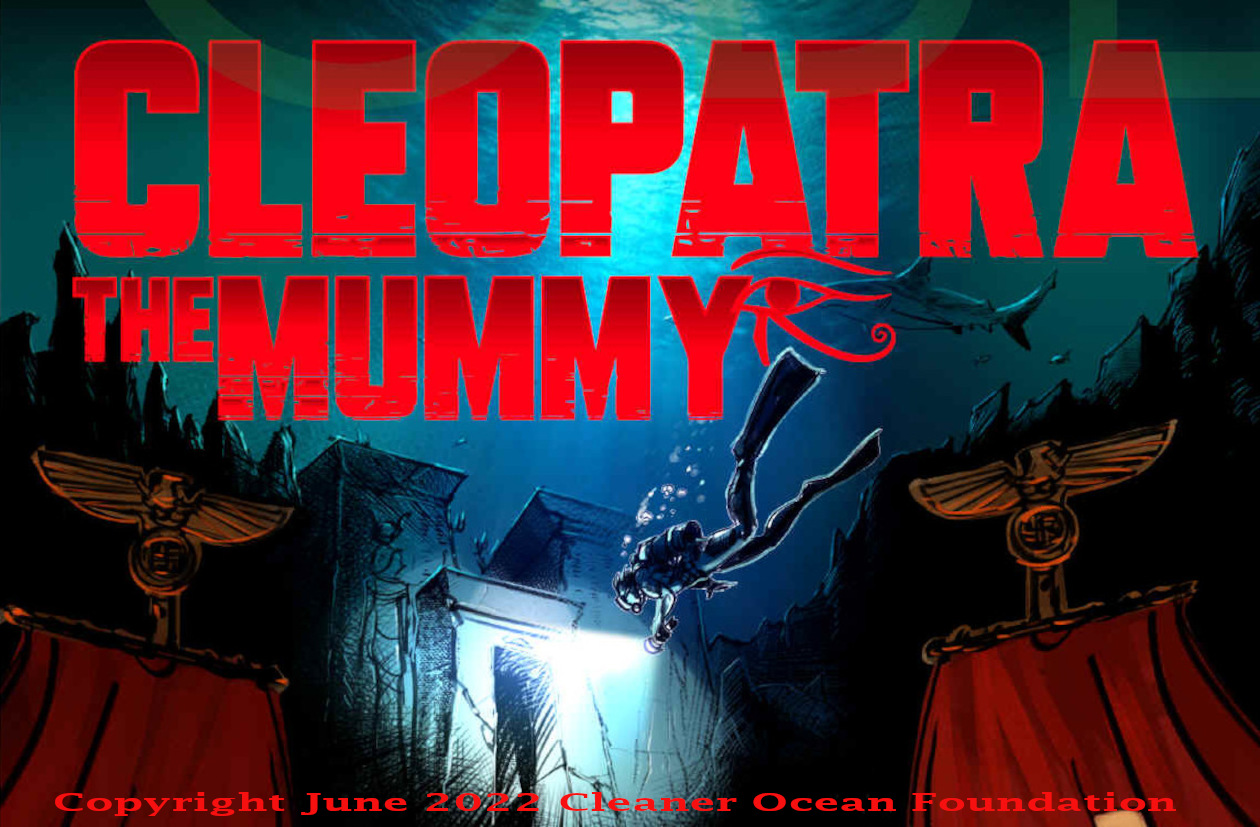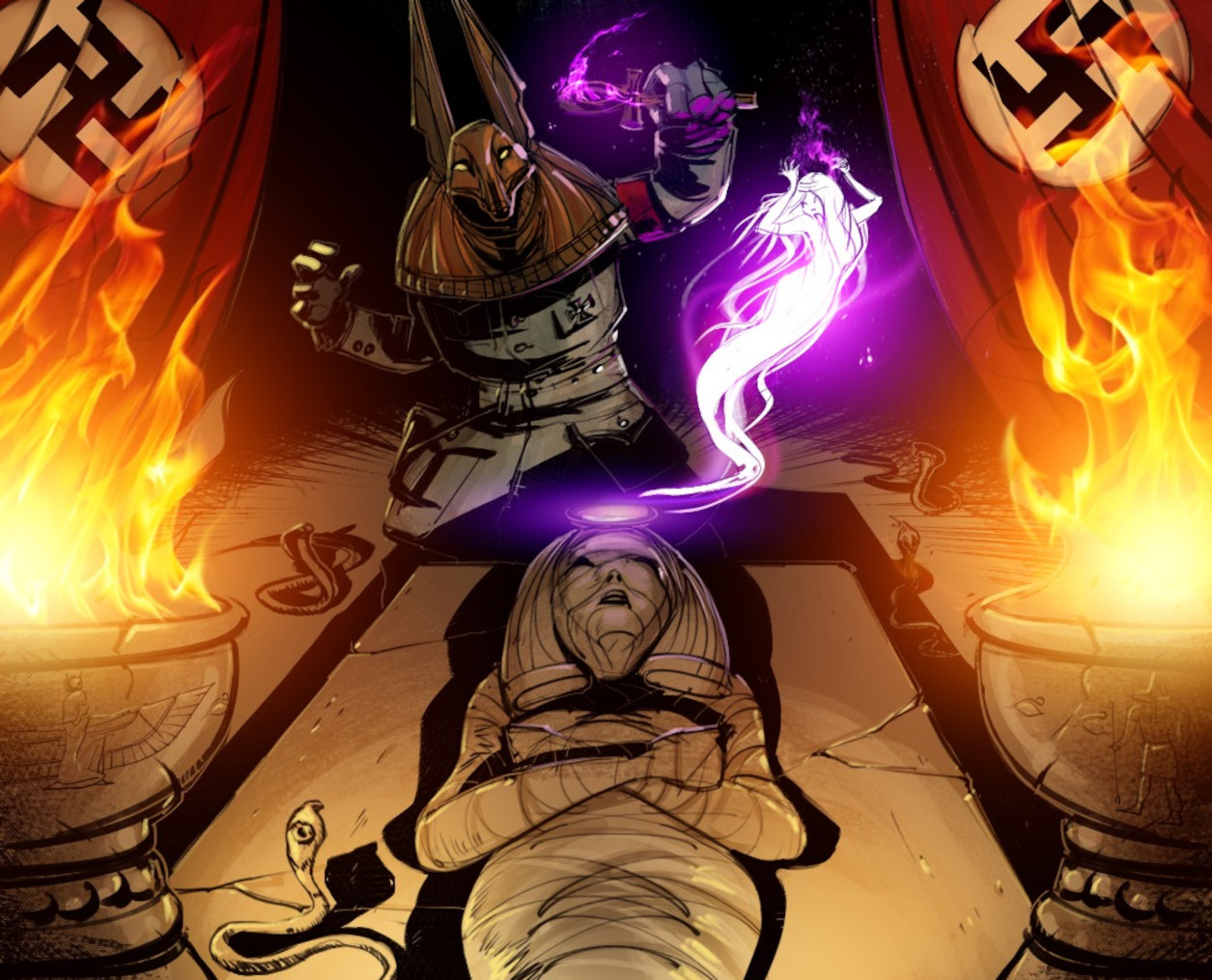 POSTER - Advertising for 'Cleopatra The Mummy' graphic novel, showing the discovery of Cleopatra's underwater tomb, and the ritual reincarnation of the Pharaoh Queen of Egypt. The technology to make this possible is real, and exists today. But human cloning is not legal in many countries.
Set in the Mediterranean Sea off the coast of Alexandria, with scenes in Brazil (Amazon) and the Caribbean Sea, a film has potential for games, networked TV series, computers, telecommunications, satellites, and much more.
The Cleaner Ocean Foundation are developing a graphic novel version of 'Cleopatra The Mummy', aiming for publication in 2024, assuming a fair wind.
The story entered the script phase of development in March of 2022, ending with a first draft in February 2023. The Kulo Luna draft script may be accessed by that page, or on Amazon Kindle.
The Foundation will be developing the third follow on adventure in the series, once 'Cleopatra The Mummy' is at 2nd draft stage. Making a portfolio of three original adventures, a trilogy for entrepreneurs to consider, alongside the rash of re-makes currently flooding the market void.
Please contact the Cleaner Ocean Foundation to discuss film potential: jameson@jules-verne.org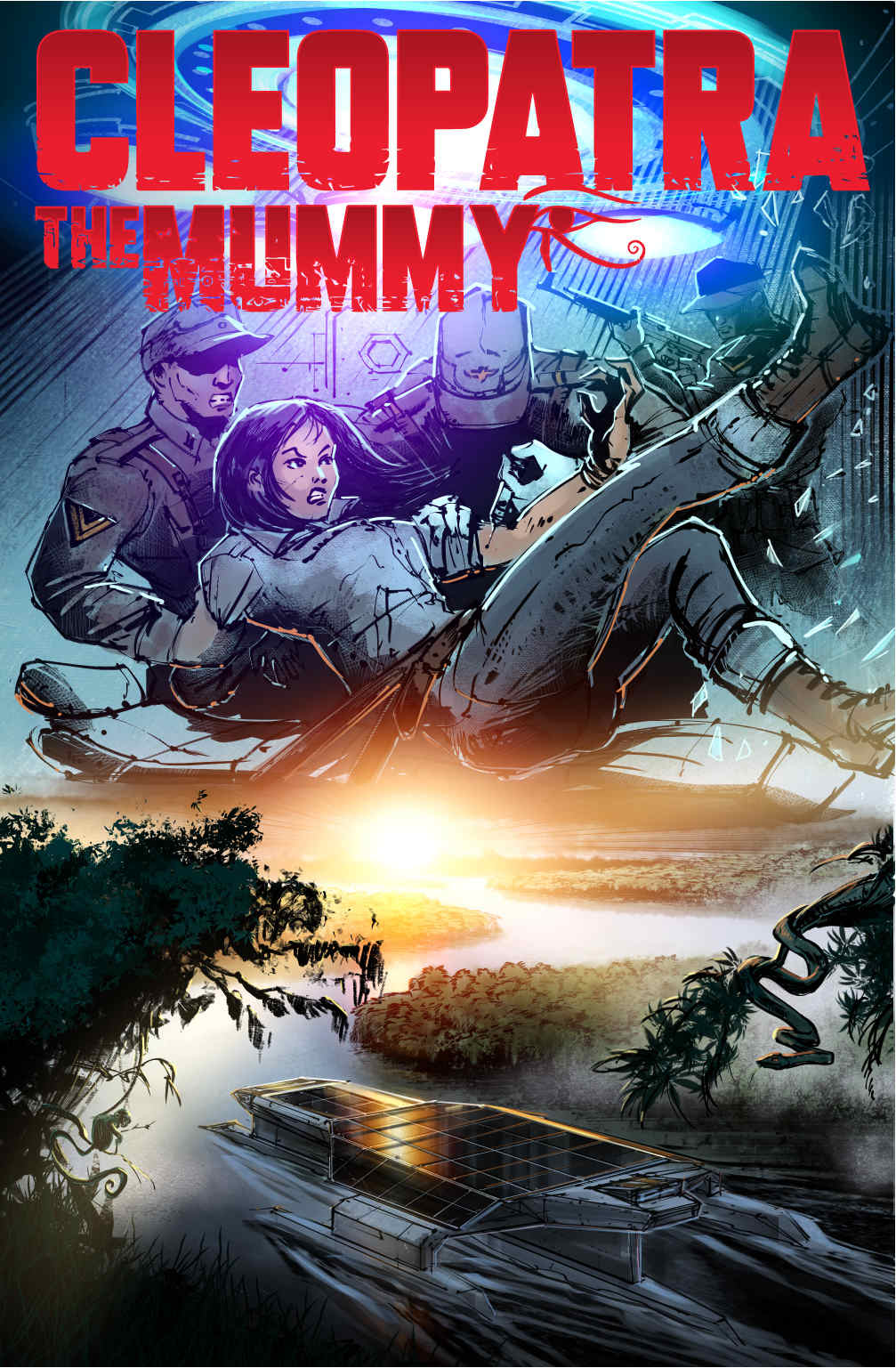 Near complete artwork for the cover of Issue 2, of the 'Cleopatra' graphic novel, depicting the kidnap of Charley Temple at a secret laboratory near Manaus, while she is following up on a Youtube of an unnaturally fast runner nicknamed the Panamanian Running Man. She was supposed to wait for John Storm, seen cruising up the Amazon river, to meet her, in the Elizabeth Swann, solar and hydrogen powered trimaran.
PROLOGUE INNER CIRCLE OF SIX - Joseph Mengele's reserve plan for a Fourth Reich, by relocating escaped WWII scientists, to Brazil.
CHAPTER 1. THE POISON ASP -
CHAPTER 2. WRATH OF THE GODS - The destruction of Thonis and Alexandria
CHAPTER 3. NEW WORLD ORDER - A Neo-Nazi plan to regenerate Aryan supremacy
CHAPTER 4. CYBERCORE GENETICA - Nano computer technology is purchased at an auction by a religious sect.
CHAPTER 5. INCUBUS -
CHAPTER 6. SPLICE -
CHAPTER 7. TREMORS - Cleopatra's tomb lay lost for centuries. Until a shift in the tectonic plates triggered a tremor off the coast of Alexandria.
CHAPTER 8. PANAMANIAN RUNNING MAN -
CHAPTER 9. THE AMAZON -
CHAPTER 10. TOMB RAIDERS - Safiya Sabuka and Musa Bomani dive among sifting sands to discover precious artifacts and golden treasures.
CHAPTER 11. SCOTLAND YARD -
CHAPTER 12. OPERATION ALEXANDRIA - Neo-Nazi occultists recover Cleopatra's sarcophagus from underwater tomb near Palace.
CHAPTER 13. KIDNAP - Charley is taken prisoner
CHAPTER 14. UNESCO - Catholic Church fear grave desecration heritage theft, asks agencies for help. Interpol issue Red Notice.
CHAPTER 15. REPLICANT - The Society reproduce Cleopatra using Francisco's RepliVator™, uploading synapse sequence and implanted memories.
CHAPTER 16. FULL STEAM AHEAD - Storm speeds to Thonis, then uses the Swann's AI sensors and the Ark database to find tomb has been plundered.
CHAPTER 17. RITUAL SACRIFICE - The Baron prepares a drugged Cleopatra for ceremonial impregnation.
CHAPTER 18. SANCTUM INTERRUPTUS - John finds secret Nazi hideout near Alexandria, disturbs ritual - rescues Cleopatra, arresting conspirators.
CHAPTER 19. THE CHOSEN ONE - The reincarnated Cleopatra falls for her rescuer. John comes under her spell, despite her being a replicant.
CHAPTER 20. MILITARY INTERVENTION - The military detain Cleopatra to appease stakeholders, despite media & medical protests. Storm distraught.
CHAPTER 21. DÉJÀ VU - History repeats itself, military lock up technology as gross violation of human rights, John left disillusioned
FINALE FOR NOW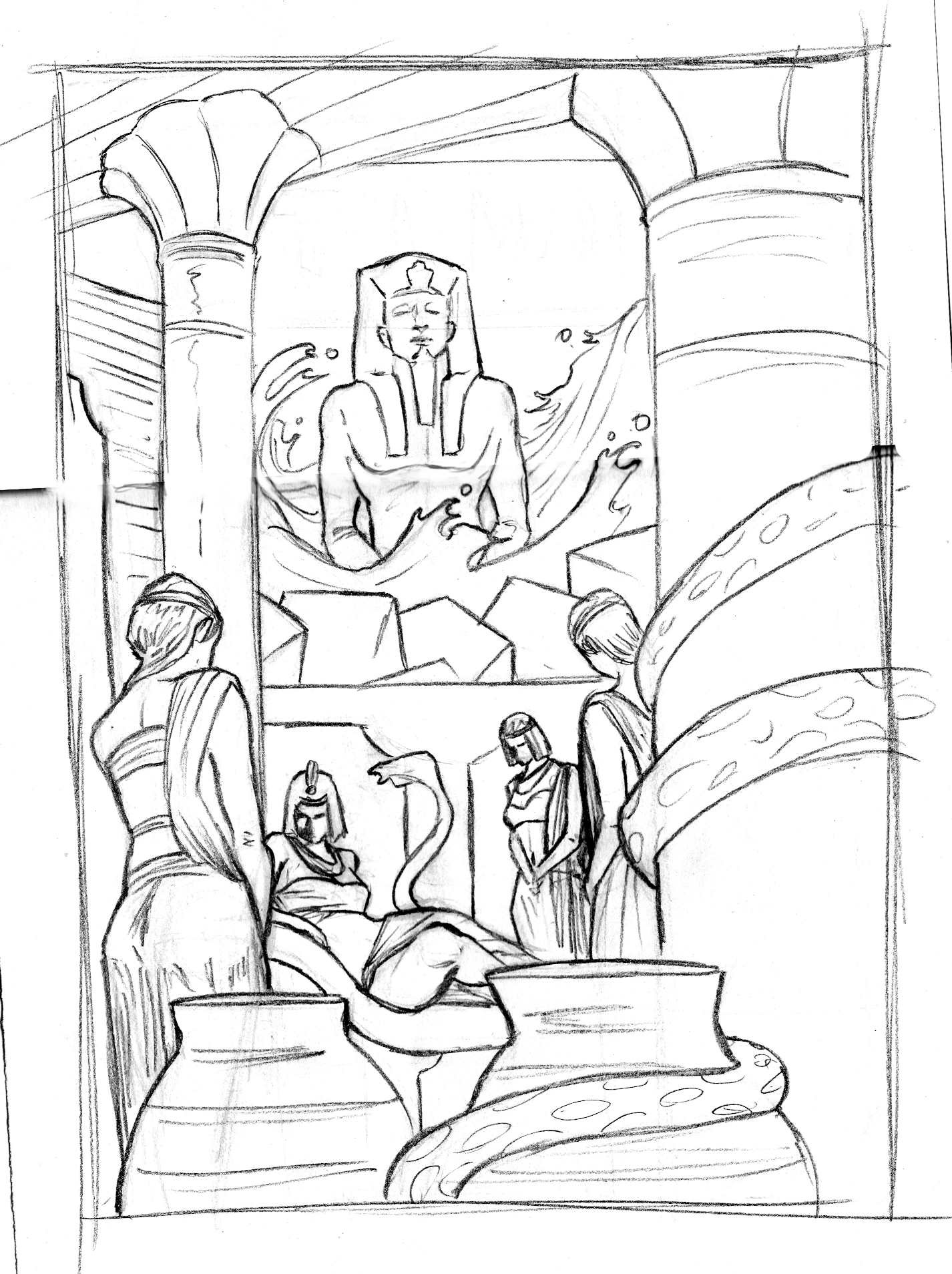 Rough sketch for the cover of Issue 1, of the Cleopatra graphic novel, depicting the suicide of the Queen of Egypt, and subsequent submerging of the Pharaoh's mausoleum in 365 AD, following a well documented earthquake and tsunami in the Mediterranean Sea.
..