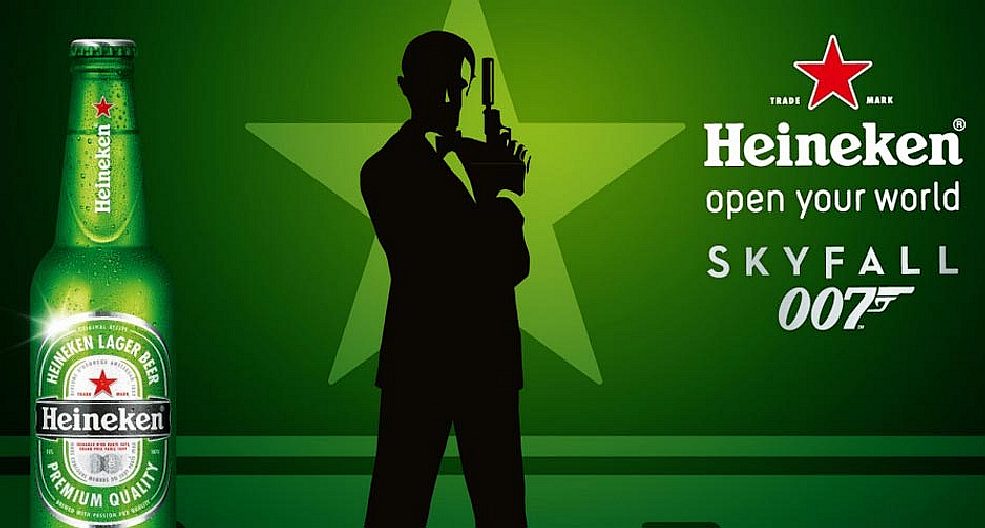 One of the film franchises with a long history of product placement is James Bond. In a recent twist of the story our hero changes his favorite Vodka-Martini drink for a Heineken. Presumably, not shaken or stirred.
This is an A to Z listing of some of the best advertising in movies using carefully placed products to raise brand awareness, mostly adding to the storyline.
Generally speaking, manufacturer's will encourage the placement of their products in appropriate movies, contributing to the production costs, where it shows such merchandise in a good light. Indeed, we live in a society where branding and being seen in the right apparel is part of any story, telling us a bit about the characters being portrayed.
Without such promotions some films would never see the light of day. On occasion a film is so packed with product placement, to some viewers it may seem like one long advertisement. In other films the placing of products help to improve the story.
Product placement in movies turned into a sizeable industry a long time ago. Big brands sometimes sign long-term contracts with film studios, and scripts are adapted from the get-go to incorporate brand exposure. Otherwise, movie studios are happy to collaborate with brands as embedded advertising can make up to half of the average blockbuster budget.
Apple (Beats) - Transformers (Age of Extinction)
Aston Martin - James Bond
AT&T - Back to the Future
Ben & Jerry's - Minority Report
BMW - James Bond (Skyfall)
Budweiser - Star Trek (Into Darkness), That's My Boy, Top Gun
Burger King - Iron Man
Cadillac - Once Upon a Time in Hollywood
Chevrolet - Captain Marvel
Coca Cola - Superman, Just Like Heaven, Blade Runner, Jurassic World
Converse (All Stars) - I Robot
Dell -
Doritos - Wayne's World
Dr Pepper - Forrest Gump
Etch A Sketch - Toy Story
Fedex - Castaway
Ford Fusion - James Bond & New Girl
Ford Mustang - Bullitt
Gargoyles - The Terminator
General Motors - Transformers
Geostorm - Mercedes
Google - The Internship
Guinness - Minority Report
Harley Davidson - Terminator 2
Hasbro - Battleship
Heineken - James Bond (Skyfall), Austin Powers
Hershey (Reece's Pieces) - ET
Hewlett Packard - Real Steel
Hyundai - Knives Out
IHOP (International House of Pancakes) - Superman (Man of Steel)
IKEA - Fight Club
Jack Daniels - Basic Instinct
Jaguar - The Italian Job, James Bond, Austin Powers
Jeep (Fiat Chrysler) - Hard Target, Bourne Identity
Kawasaki - Top Gun
Krispy Kreme - Power Rangers
Lamborghini - The Italian Job
Land Rover -
Lego - The Movie
Lexus - Minority Report
Lotus - James Bond
MacDonalds - Mac and Me, Kingsman
Manalo Blahnik - Sex & The City
Mattel (Barbie Doll) - Toy Story
Mercedes - Jurassic World
Mini Cooper - The Italian Job
Nike - Back to the future, White House Down, The Terminator
Nintendo - K9, Sweetheart, Captain Marvel, Back to the Future
Nokia - The Matrix, Minority Report
Old Forester - Kingsman (The Golden Circle)
Panasonic - Joker
Pepsi Cola - Back to the Future, Minority Report
Pizza Hut - Teenage Mutant Ninja Turtles, Wayne's World, Back to the Future
Playstation - Fast & Furious, Runaway Jury
Prada - The Devil Wears Prada
Quality Street
Ray-Bans - Top Gun, Risky Business
Reebok - Jerry Maguire
Royal Caribbean International (Allure of the Seas) - Jack and Jill
Samsung - Jurassic World
Sony - Jumanji (Welcome to the Jungle, The Next Level)
Starbucks - Austin Powers
Toshiba - The Terminator
Toyota - Back to the Future
Twinkies - Zombieland
US Navy - Top Gun
Verizon - Jurassic World
Wilson - Castaway
Xbox - Hair Care Products, Real Steel
Yellow Pages
Zerox
NOTE: In addition to our own opinions, we also quote and reference the views and reviews of others for the purposes of comparison.
Studios are not required to ask for permission to include every little brand in their movies - even if some companies believe that is the case.
Trademark law isn't about making sure you're always happy about how your product is displayed, provided there is no misrepresentation. For example, alcohol taken in sufficient quantities will get you drunk, but if portraying a real life drunkard who only imbibed one make, then the film makers would have to stay in brand, or show no brand at all. Sometimes the truth hurts, such as with Marlborough and smoking causing cancer. A trade mark protects against third parties passing off goods as their own in the course of selling physical products directly to the public at sales outlets.
According to a quote from Daniel Nazer (Stanford Law School Fair Use Project): Trademark laws "don't exist to give companies the right to control and censor movies and TV shows that might happen to include real-world items." "It is the case that often filmmakers get paid by companies to include their products. I think that's sort of led to a culture where they expect they'll have control. That's not a right the trademark law gives them."
According to Jay Dougherty, a professor at Loyola Law School (director of the school's Entertainment & Media Law Institute): the use of brands in films has generally been protected by the courts, even when the companies aren't pleased with the portrayals such as in Flight (Denzel Washington). "It wouldn't have been as effective a film if they used a bunch of non-generic brands." "In a normal situation, if the alcohol were just there as a smaller part of the movie, they might have created an artificial brand for it."
Obviously, no film company is going to go out of their way to misrepresent the facts and in most cases where a company makes a request (and provided there are no untoward costs attached) film producers will work with firms to strike a balance. It is always better to negotiate than litigate. Indeed, litigation may have the opposite effect that a company seeking to preserve or create a good reputation, is working towards.
There are directors, like Quentin Tarantino or David Lynch, who will not work with this approach where they claim it distracts the viewer from the story and brings no artistic value. Tarantino invented his own cigarette brand, Red Apple, which appears in many of his films. But is that in itself a distraction or a statement!
LINKS & REFERENCE
https://movavi.io/product-placement-in-movies-2/
https://productplacement.biz/
https://marketsplash.com/product-placements-in-movies/
https://sofy.tv/blog/product-placements-in-film/
https://concavebt.com/top-10-most-product-placement-brand-filled-movies-of-2019/
https://www.fortressofsolitude.co.za/product-placement-movies/
https://www.techdirt.com/articles/20121106/08350120946/budweiser-asks-paramount-to-remove-their-beer-movie-flight.shtml
https://screenrant.com/movies-2019-most-shameless-product-placements/
https://concavebt.com/top-10-brands-2018-movies-product-placement/
..