Another great film made possible by the inclusion of several household name brands.
Top Gun is a classic high octane story ideal to spark enlisting numbers in the US Navy as an aviator, much the same as Officer and Gentleman managed in 1982, four years before, with Richard Gere. The difference being upgrading the story line to include flying jets, in confrontation with Russian MIGs, and Tom Cruise. This film is a great example of successful product placement.
The film is a product placement feast for Ray-Ban, Budweiser, Porsche, Kawasaki and the US Navy's recruitment drive, with Pepsi Cola also chiming in.
If you check product placement from Top Gun in more detail, there are several brands that were included in the movie, but the most important are Ray-Ban's Aviator sunglasses and the US Navy.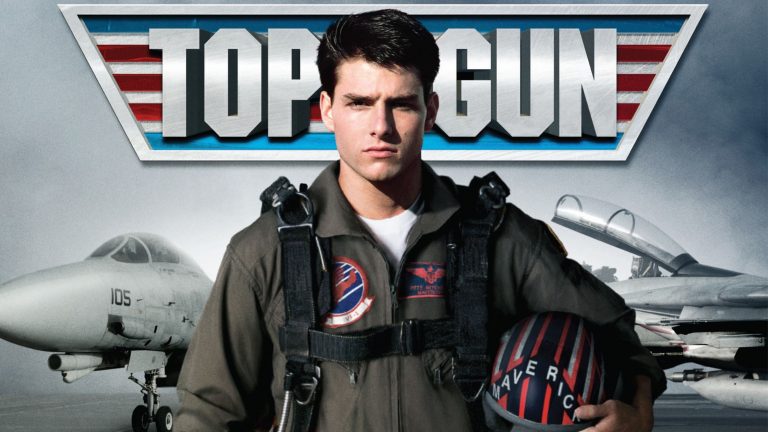 US Navy

After almost 35 years Top Gun is still an over-the-top patriot movie, but at that time it was also something else. The movie's producer, John Davis, stated that "Top Gun was a recruiting video for the Navy. It really helped their recruiting. People saw the movie and said, 'Wow! I want to be a pilot.'"
Apparently they were successful. The US Navy set up recruiting booths in the major cinemas to try and catch some of the adrenaline charged guys leaving the screenings. They even stated that after the release of the movie the number of young men, who wanted to be Navy aviators, went up by 500 percent.

Producers of the movie had to work together with the Navy, if they wanted to use planes in the movie. But Navy made some changes in the script that resulted in more "safer" movie: moving a plane fight to international waters as opposed to Cuba, Maverick's girlfriend had to be Navy's contractor instead of member of the Navy.

Few people realize it, but each branch of the U.S armed forces have a special unit that is tasked with promoting it. There has been no better example of the success of these units than the film Top Gun. The film featured some stunning combat scenes, including carrier landings, all of which were performed by U.S navy pilots.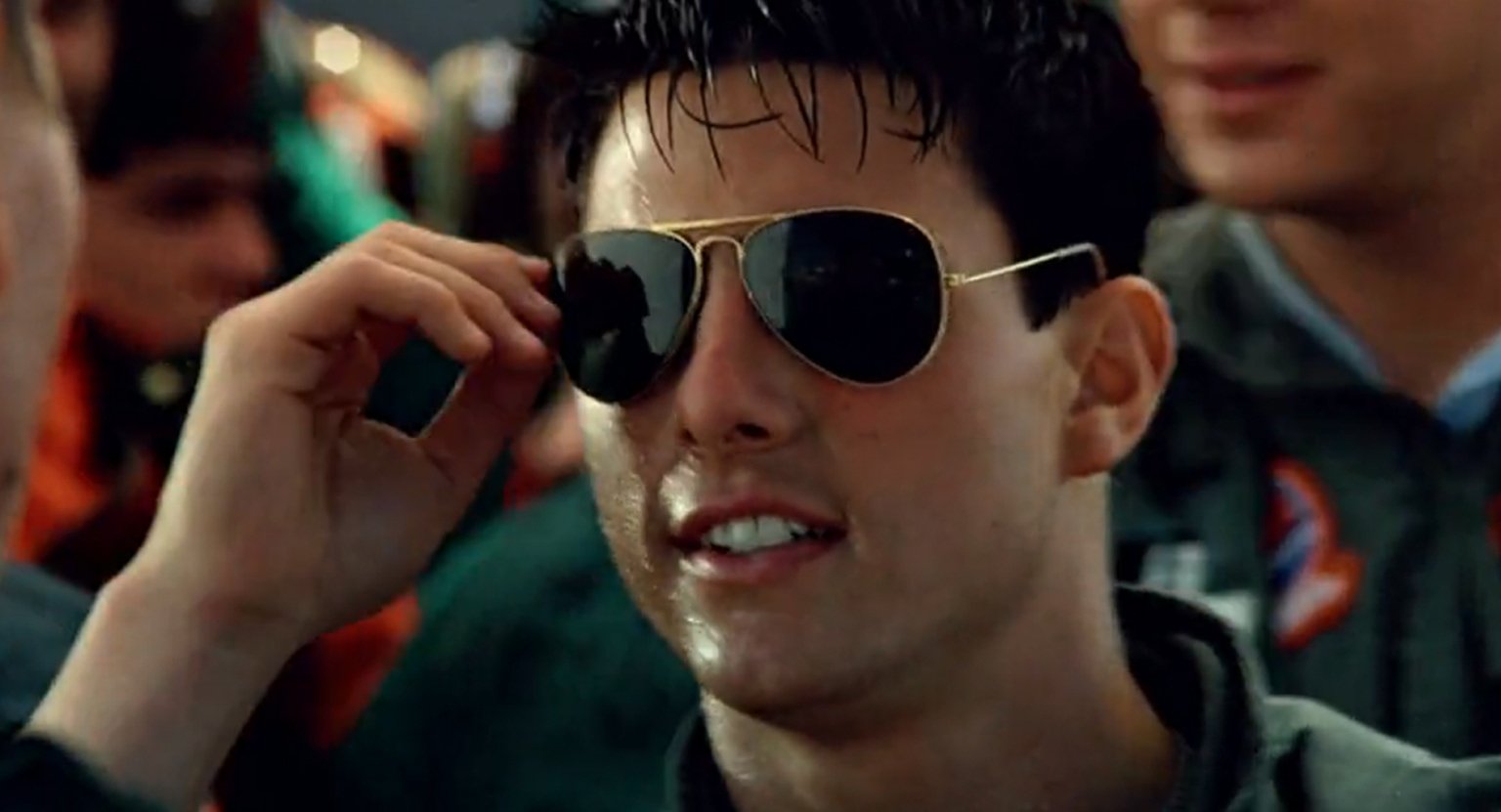 Ray Ban

In 1983 a sunglasses production company Ray-Ban struck a product placement deal with producers of Risky Business, the first major Cruise's box-office hit. The agreement was very successful and resulted in a 50% increase in sales of the Wayfarer model. Three years later Ray-Ban and Tom Cruise cooperated again. This time he and his Navy colleagues wore Aviators. The result: the sales of Aviator sunglasses rose by 40 percent in the seven months following the release of the movie. It's one of the classic examples of successful product placement.

The Aviator model became famous in the mid 80's, mainly because of the celebrity endorsements, e.g. Michael Jackson and Tom Cruise. Aviator model has survived time rather well and can be seen in the movies, TV shows and on several celebrities.
TELL US ABOUT THE MONEY
Top Gun is a 1986 American action drama film directed by Tony Scott, produced by Don Simpson and Jerry Bruckheimer, in association with Paramount Pictures.

Top Gun had a huge impact on several generations on moviegoers, because it included a handsome and fearless lead character, who not only defeated enemies in the air, but also won a heart of a beautiful woman. He was dressed in jeans, wore a leather jacket and a pair of sunglasses. And he rode a motorcycle and flew a military fighter. In the world of BBD's (Bigger, Better, Deals) Beat that!

The film quickly became a success and was the highest-grossing film of 1986. It would be six months before its theater count dropped below that of its opening week. It was number one on its first weekend with a gross of US$8,193,052, and went on to a total domestic gross of US$176,781,728. Internationally it took in an estimated US$177,030,000 for a worldwide box office total of US$353,811,728.

In addition to its box office success, Top Gun went on to break further records in the then still-developing home video market. It was the first new-release blockbuster on video cassette to be priced as low as $26.95 and, backed by a massive $8 million marketing campaign, including a Top Gun-themed Diet Pepsi commercial, the advance demand was such that the film became the best-selling videocassette in the industry's history on pre-orders alone, with over 1.9 million units ordered before its launch on March 10, 1987. It eventually sold a record 2.9 million units.

Subsequently, the film was first released on Blu-ray disc on July 29, 2008 with the same supplemental features as the Collector's Edition DVD and also as a 2-disc limited edition 3D copy on February 19, 2013. The remastered Blu-ray and Digital Copy version of the film was released on May 19, 2019 on Paramount Movies. Top Gun was released in the U.S. on remastered Blu-ray and 4K Ultra HD on May 19, 2020.





Apple (Beats) - Transformers (Age of Extinction)
Aston Martin - James Bond
AT&T - Back to the Future
BMW - James Bond (Skyfall)
Budweiser - Star Trek (Into Darkness), That's My Boy, Top Gun
Burger King - Iron Man
Cadillac - Once Upon a Time in Hollywood
Chevrolet - Captain Marvel
Coca Cola - Superman, Just Like Heaven, Blade Runner, Jurassic World
Converse (All Stars) - I Robot
Dell -
Doritos - Wayne's World
Dr Pepper - Forrest Gump
Etch A Sketch - Toy Story
Fedex - Castaway
Ford Fusion - James Bond & New Girl
Ford Mustang - Bullitt
Gargoyles - The Terminator
General Motors - Transformers
Geostorm - Mercedes
Google - The Internship
Harley Davidson - Terminator 2
Hasbro - Battleship
Heineken - James Bond (Skyfall), Austin Powers
Hershey (Reece's Pieces) - ET
Hyundai - Knives Out
IHOP (International House of Pancakes) - Superman (Man of Steel)
IKEA - Fight Club
Jack Daniels - Basic Instinct
Jaguar - The Italian Job, James Bond, Austin Powers
Jeep (Fiat Chrysler) - Hard Target, Bourne Identity
Kawasaki - Top Gun
Krispy Kreme - Power Rangers
Lamborghini - The Italian Job
Land Rover -
Lego - The Movie
Lotus - James Bond
MacDonalds - Mac and Me, Kingsman
Manalo Blahnik - Sex & The City
Mattel (Barbie Doll) - Toy Story
Mercedes - Jurassic World
Mini Cooper - The Italian Job
Nike - Back to the future, White House Down, The Terminator
Nintendo - K9, Sweetheart, Captain Marvel, Back to the Future
Nokia - The Matrix
Old Forester - Kingsman (The Golden Circle)
Panasonic - Joker
Pepsi Cola - Back to the Future
Pizza Hut - Teenage Mutant Ninja Turtles, Wayne's World, Back to the Future
Playstation - Fast & Furious, Runaway Jury
Prada - The Devil Wears Prada
Q
Ray-Bans - Top Gun, Risky Business
Reebok - Jerry Maguire
Royal Caribbean International (Allure of the Seas) - Jack and Jill
Samsung - Jurassic World
Sony - Jumanji (Welcome to the Jungle, The Next Level)
Starbucks - Austin Powers
Toshiba -
Toyota - Back to the Future
Twinkies - Zombieland
US Navy - Top Gun
Verizon - Jurassic World
Wilson - Castaway
Xbox - Hair Care Products, Real Steel
Yellow Pages
Zerox
NOTE: In addition to our own opinions, we also quote and reference the views and reviews of others for the purposes of comparison.
LINKS & REFERENCE
https://movavi.io/product-placement-in-movies-2/
https://productplacement.biz/
https://marketsplash.com/product-placements-in-movies/
https://sofy.tv/blog/product-placements-in-film/
https://concavebt.com/top-10-most-product-placement-brand-filled-movies-of-2019/
https://www.fortressofsolitude.co.za/product-placement-movies/
https://www.techdirt.com/articles/20121106/08350120946/budweiser-asks-paramount-to-remove-their-beer-movie-flight.shtml
https://screenrant.com/movies-2019-most-shameless-product-placements/
https://concavebt.com/top-10-brands-2018-movies-product-placement/
..