Another great film made possible by the inclusion of several household name brands.
In the first Back to the Future film, the placement of brands was fairly subtle, as in the case of Pepsi products being seen at the dinner table, or a Toyota truck pulling over into a Texaco service station.

Both the Miller Brewing Company and Budweiser were visible in Hill Valley, with trucks from both companies on the streets in 1985, and cans of both Lite Beer and Bud Lite present in the McFly family refrigerator.
After wrecking George McFly's car while drinking beer, Biff Tannen took a light beer from the refrigerator and complained about it. In 1955, only Miller Beer was present in Hill Valley; Marty passed a delivery truck on his way into downtown, and Sam Baines had an open bottle of the beer at his dinner table. Lorraine Baines McFly drank Popov vodka.

The McFly family kitchen included such products as Scott Towels, Raid insecticide, Pledge wash, Kellogg's Cocoa Krispies (and two other Kellogg's cereals, the names of which are almost completely obscured on-screen), Maxwell House coffee, Wonder Bread, McCormick pepper, French's Instant Potatoes and French's mustard, and Scott bathroom tissue. George McFly purchased Sophie Mae peanut brittle. The family played board games, and "The Game of Life", made by Milton Bradley, sat near the television.

The Doc fed Einstein both Kal Kan canned dog food and Milk Bone dog biscuits. In 1955, he had fed Copernicus Milk Bone dog biscuits as well. At Lou's Cafe, Mounds and Almond Joy candy bars were sold at the cash register.

In George Gipe's Back to the Future novelization, George McFly is eating Rice Krispies at Lou's Cafe, but this cannot count as an example of product placement as the cereal is never referred to by name on-screen, and is not visible.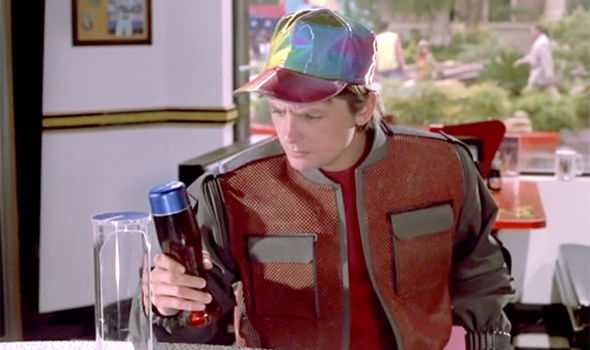 Beat that!
Apple (Beats) - Transformers (Age of Extinction)
Aston Martin - James Bond
AT&T - Back to the Future
BMW - James Bond (Skyfall)
Budweiser - Star Trek (Into Darkness), That's My Boy, Top Gun
Burger King - Iron Man
Cadillac - Once Upon a Time in Hollywood
Chevrolet - Captain Marvel
Coca Cola - Superman, Just Like Heaven, Blade Runner, Jurassic World
Converse (All Stars) - I Robot
Dell -
Doritos - Wayne's World
Dr Pepper - Forrest Gump
Etch A Sketch - Toy Story
Fedex - Castaway
Ford Fusion - James Bond & New Girl
Ford Mustang - Bullitt
Gargoyles - The Terminator
General Motors - Transformers
Geostorm - Mercedes
Google - The Internship
Harley Davidson - Terminator 2
Hasbro - Battleship
Heineken - James Bond (Skyfall), Austin Powers
Hershey (Reece's Pieces) - ET
Hyundai - Knives Out
IHOP (International House of Pancakes) - Superman (Man of Steel)
IKEA - Fight Club
Jack Daniels - Basic Instinct
Jaguar - The Italian Job, James Bond, Austin Powers
Jeep (Fiat Chrysler) - Hard Target, Bourne Identity
Kawasaki - Top Gun
Krispy Kreme - Power Rangers
Lamborghini - The Italian Job
Land Rover -
Lego - The Movie
Lotus - James Bond
MacDonalds - Mac and Me, Kingsman
Manalo Blahnik - Sex & The City
Mattel (Barbie Doll) - Toy Story
Mercedes - Jurassic World
Mini Cooper - The Italian Job
Nike - Back to the future, White House Down, The Terminator
Nintendo - K9, Sweetheart, Captain Marvel, Back to the Future
Nokia - The Matrix
Old Forester - Kingsman (The Golden Circle)
Panasonic - Joker
Pepsi Cola - Back to the Future
Pizza Hut - Teenage Mutant Ninja Turtles, Wayne's World, Back to the Future
Playstation - Fast & Furious, Runaway Jury
Prada - The Devil Wears Prada
Q
Ray-Bans - Top Gun, Risky Business
Reebok - Jerry Maguire
Royal Caribbean International (Allure of the Seas) - Jack and Jill
Samsung - Jurassic World
Sony - Jumanji (Welcome to the Jungle, The Next Level)
Starbucks - Austin Powers
Toshiba -
Toyota - Back to the Future
Twinkies - Zombieland
US Navy - Top Gun
Verizon - Jurassic World
Wilson - Castaway
Xbox - Hair Care Products, Real Steel
Yellow Pages
Zerox
NOTE: In addition to our own opinions, we also quote and reference the views and reviews of others for the purposes of comparison.
LINKS & REFERENCE
https://movavi.io/product-placement-in-movies-2/
https://productplacement.biz/
https://marketsplash.com/product-placements-in-movies/
https://sofy.tv/blog/product-placements-in-film/
https://concavebt.com/top-10-most-product-placement-brand-filled-movies-of-2019/
https://www.fortressofsolitude.co.za/product-placement-movies/
https://www.techdirt.com/articles/20121106/08350120946/budweiser-asks-paramount-to-remove-their-beer-movie-flight.shtml
https://screenrant.com/movies-2019-most-shameless-product-placements/
https://concavebt.com/top-10-brands-2018-movies-product-placement/
..